With Christmas well over, we asked Nails guru, Gelish nails educator and owner of MB Nails, (the popular nail salon in Dundrum) Michele Burke to tell us what the New Year means for her. She talks Callus Peels and gives her nail colour for this winter!
So, I'm officially over Overindulging. All December long I chowed down on whatever took my fancy, Quality Street, King crisps, cheese, turkey, turkey sambos, more turkey, not forgetting the endless river of vino to wash it all down with, all the while tellin' myself 'if ya can't do it at Xmas, when can ya?!' Well that's it, Finito! Christmas has come to an end and so has my gluttony!! Sounding familiar?!
New Year, New Me! I'm starting 2015 as I mean to go on. Getting fit and healthy. I went to The Light Ball in November and won a month of yoga in Hot Yoga, Sandyford (thanks very much!). This will be my starting point for a fitter lifestyle.
My 18 year old brother was horrified recently by the state of my 'uncool runners' and even asked if they were Mam's. In fairness they're not as bad as they could be, since they were selected from a sports shop bargain bin while traveling Mexico in 2008!! Not a confession I'm exactly proud of but, oh well it's out there now. I obviously haven't exercised much since then. Shame on me!!
Is it wrong that my shoe fetish drifts towards anything with animal print? Shoes that have style and pizazz. Shoes I can coordinate outfits and nails to.
I need to get my mind right though and think about fashion now in the form if sports wear not party outfits. I can still use my theory of 'nails and fashion go hand in hand' but now I'm applying it to work-out clothes.I can mix and match leggings and shorts with T-shirts and racer backs, hoodies and jumpers. Oooh it'd be so fun if I could wear a headband or leg warmers!.. Too much?!!
First on my To Do List; I plan to use all my lovely Xmas gift vouchers to buy some fashion forward training gear, (thanks Santa and Brother peer pressure!). I'm loving the Active wear at Forever 21. Its affordable, fashionable and fun. I'll soon have a capsule collection sports wardrobe even Gok Wan would be proud of!
This is going to be okay, I'm going to be fine. Breath Michele, New Year, New Me! Secondly, if I'm to be Tree Posing in Hot Yoga my feet will have to be in perfect condition, a **Callus Peel is a definite must, as is Gelish toes. My tootsies will be baby soft in time for Toe Stand pose.
What is a **Callus Peel you ask?..Well, it's The Secret to oh so silky soft trotters. The simple four step process, to remove calluses from the feet consists of:
Step 1: a skin softening patch is wrapped around the affected area. This contains fruit acids which gently soften the crispy bits.
Step 2: a special plastic blade free scraper is then used to peel away the dead calluses, not for the squeamish I might add, but it's so satisfying actually seeing all that unwanted dead skin being removed (all my pickers and squeezers out there will understand!).
Step 3: the remaining skin is then buffed with a foot file revealing new, fresh crusty-free feet.
Step 4: last but not least, the finishing moisturising cream is massaged into your feet #heaven .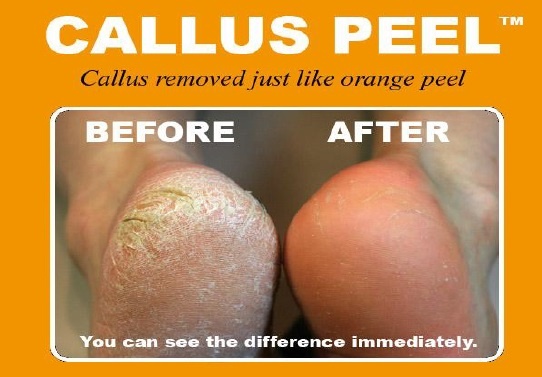 After these steps, your colour of choice is painted onto the nails. I don't know how you're feeling ladies, but I know I'm in a NO GLITTER zone for both toes and fingers! Now the New Year has hit, it's Glitter be Gone!! I'm thinking Monochrome, Nude Nails, maybe a splash of Neon, if the mood takes me.
Also, I don't want to see red again until Valentine's Day .But we'll chat about that in my next post! ❤
Here's hoping to a fabulous and successful 2015 for all of us. Wishing you the best for your New Year's resolutions. I'm off now to Awkward Pose, #NewYearNewMe!
Michele XO
Michele Burke Nails can be booked here.