The fantastic Michele Burke, owner of Michele Burke Nails in Dundrum, has written this great piece for us about Gelish and why she loves them so much!
"It's beginning to look a lot like Christmas...laaaalalalalaaaa" ...
Definitely in our salon it is, Christmas trees are going up, twinkly lights are on, candles are glowing, hot chocolate is being served and clients are getting their sparkle on!
Over the years I've tried and tested a lot of products and I can honestly say I am IN LOVE with Gelish. For those of you unfamiliar with this nails brand, eh where have you been?!! Quickly let me give you the secret to amazing nails. Gelish, Performs like Gel, Applies like Polish. It is a soak off gel polish with 21 day wear. No more smudges for you as your nails will be dry leaving the salon and with over 150 colours, what's not to LOVE?!
Gelish have even collaborated with Disney to create a truly magical collection for the Cinderella movie. This collection features 9 whimsical shades. Coming to a salon near you in Spring 2015.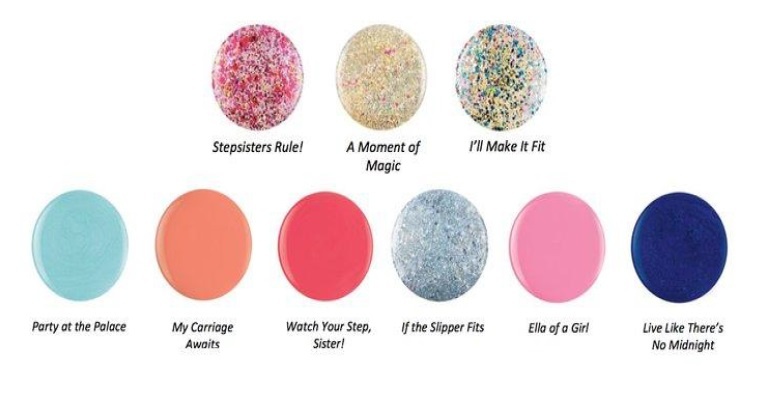 Okay, so now we know what our brand of choice is about, let's get back to Christmas "Its the Most Wonderful Time of the Year"... Gelish makes it easy for us to get our nails into the Christmas spirit. There actually is a colour for everyone!
SPOTTED recently wearing Gelish "Sugar Plum Dreams" was Pippa O Connor applied by yours truly Michele Burke Nails! This colour is a glitzy pinky red shade which is as sweet as it's name. You can find it in the Haute Holiday collection. After being seen on this fabulous lady it's already flying out the door.
So ladies, what's your Xmas colour and style? Classic reds, winter greys, nude or jewel tones, rich wines? Pssst model Rosanna Davison is a fan of a gorgeous burgundy shade "Black Cherry Berry", justsayin' #Fact.
This lady also isn't afraid to take it to the next level SPOTTED looking stunning in a vibrant Gelish red "Good Gossip", a shade even Dorothy and her Ruby Slippers would be "Well Gel" of!
Are you ready to step away from the classics and don't quite know which way to go? Stylist and Blogger Lorna Claire Weightman, shows you how it's done. The lovely Lorna popped into Michele Burke Nails and opted for a beautiful jewel tone Gelish 'Here's to the Blue Year' and the colour definitely is more uplifting than the name suggests!
Also on trend is Pippa, wearing cosy grey Gelish "Fashion Week Chic" and she adds her Sparkle in the form of a statement ring. Loving her style.
How do you wear your Mani? Matte, shimmer or go all out disco-ball glitter fingers, my personal fav! Sure why not, if you can't Rock a birra Bling "Rockin' Around the Christmas Tree" when can ya?! Sparkles = happiness! Go on girls get your claws out and express your festive self.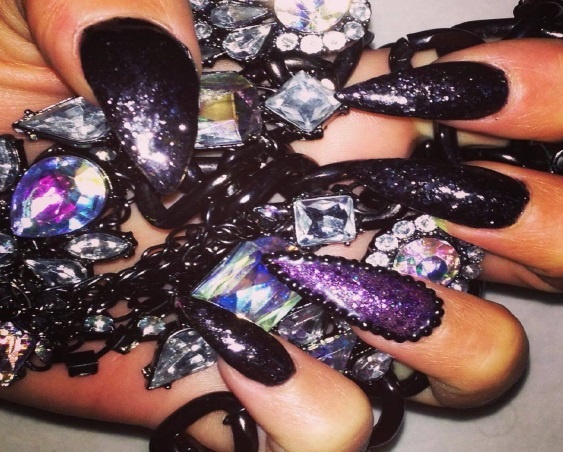 My best accessory during the Holidays? Perfectly groomed pinkies and piggies. These babies can add a pop of life to your LBD or LBJ and if your party shoesies are a peep toe, nobody wants to see a naked toe peep out, that's just rude! #SadFace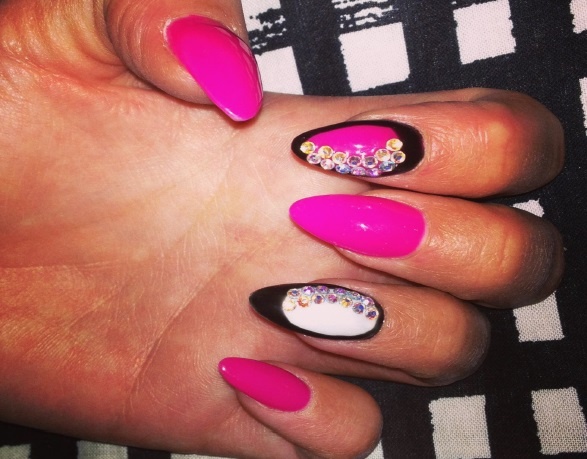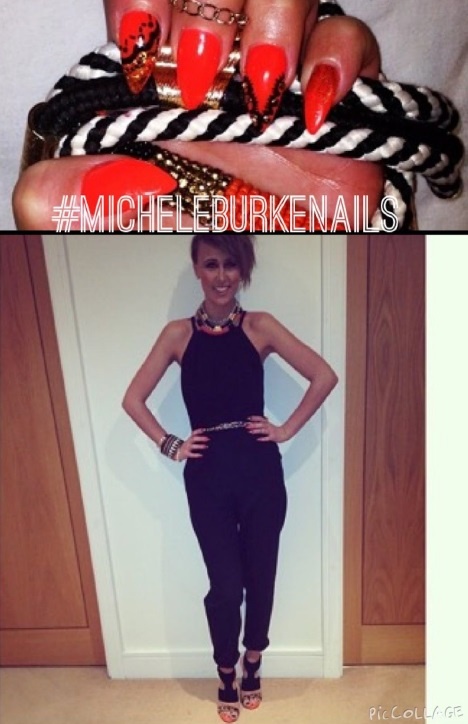 For those of you that love a good stiletto let me introduce you to Stiletto Enhancements. These long elegant spikes give that added WOW factor to any ensemble and FYI to my single ladies are a conversation starter with the males! Dunno why... Maybe there's a look of 50 Shades for men off them!! Hmmm?? Silly boys!! ;)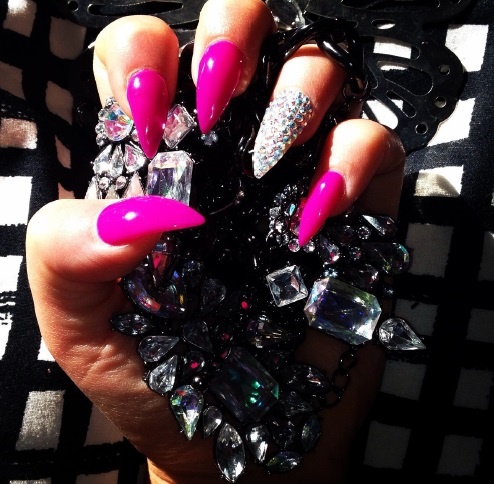 Whichever style you chose make sure it's right for you and your look. Nail treatments are super affordable and make you feel good and look fabulous. Giving yourself a half hour 'me time' in the hustle and bustle of the Christmas rush is a definite must.
And remember ladies, having your nails in tip top condition is a year round affair, not just to be on The Nice List at Christmas!
"Have Yourself a Merry Little Christmassss…"
Michele XO
Michele Burke Nails
Michele's Nail Salon is based in 53 Main Street, Dundrum.